Servo turret increases turning efficiency.

Chip conveyor offers easy chip removal.

Compact part catcher saves you space.

Gang type tools make tool change easily. Optional servo turret increases machining efficiency.

The spindle can be equipped with collet chuck or 3 jaws chuck. Users may choose the optimal choice.
---
MINI-88-20
MINI-88-20 is equipped with built-in motor, air pneumatic collet chuck and gang type tool holder. It can house a maximum of 8 tools, which increases the turning efficiency.
Examples:Automatic Loading / Unloading
Device Saves Money & Manpower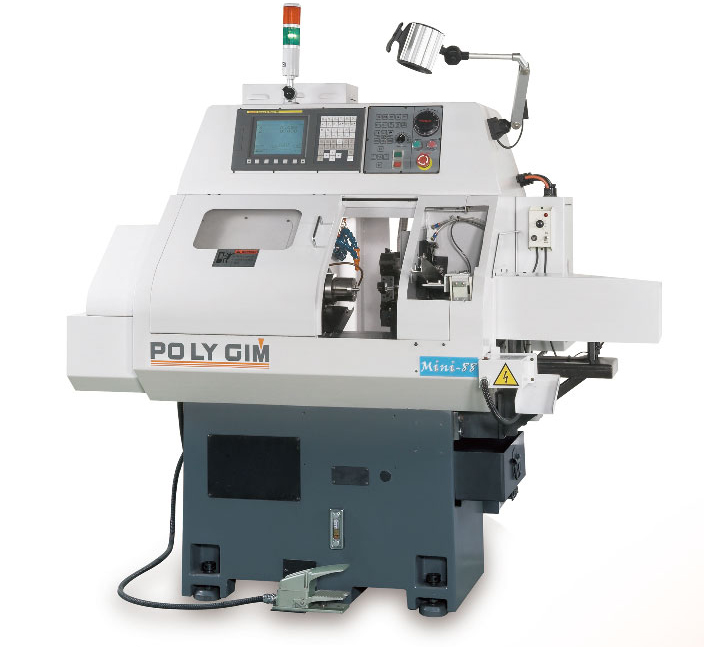 MODEL A: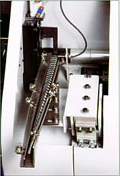 Step1:Loading
Step2:Materials loaded onto spindle
MODEL B: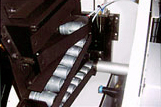 Step1:Loading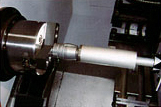 Step2:Materials loaded onto spindle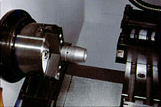 Step3:Materials clamped by chuck for cutting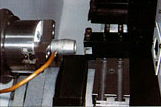 Step4:Machined workpiece unloaded by part catcher
Standard Accessories:
ITEMS
MINI-88
MINI-88-20
Model 25 Collet Chuck (161E)
1 pc
-
Model 20 Collet Chuck (148E)
-
1 pc
Foot Chuck-Swutch
1 pc
-
Work Light
1 pc
1 pc
Tool and Tool Box
1 set
1 set
Coolant Device
1 set
1 set
Base Blocks
4 pcs
4 pcs
Tool Holder Up Base
2 pcs
1 pcs
Tool Holder Down Base
2 pcs
1 pcs
I.D. Stationary Tool Holder
4 pcs
1 set
Tool Holder Bushing
6/8/10/12/16 mm
2 pcs / each
6/8/10/12 mm
2 pcs / each
Optional Accessories:
ITEMS
MINI-88
MINI-88-20
Servo 8-Position Turret
1 pc
✓
-
3 Jaws Chuck
1 pc
✓
-
Part Catcher
1 set
✓
✓
Chip Conveyor
1 unit
✓
✓
Chip Bucket
1 unit
✓
✓