Circular Sawing Machine for Metals equips with 6 meter long automatic loading system, machine will calculate the cutting parameters after input the material information. servo motor feeding system providing precise and smooth cutting workpieces. Circular sawing machine can be applied on many filed, such as forging, bearing, automobile parts etc.
Supports 24/7 cutting, automatic setting and operation with less labor cost spends.
Shorter remnants with the 3rd axis servo, the shortest remnants achievement is 20mm
Adopt spherical graphite cast iron to serve with better ductility and wear resistantance, suitable for high strength cutting.
Increasing gear box thickness, provides rigidity of the machine, to reduce resonance when cutting.
Companies who are requiring heavy duty, fast, 24/7 cutting; Kentai's Circular Sawing Machine required less man power guarding the machine and provided more efficient cutting that will significant increase the cutting volume.
We have option choice with bundle loader; customer can load the material in bundle.
Just input the cutting data, system will calculate the best RPM and perform the cutting automatically, no need for long hours training with staffs.
Adopt spherical graphite cast iron to serve with better ductility and wear resistantance, suitable for high strength cutting.
We have variety cutting capacity, smallest capacity of the machine is from 15-70/85mm(KTC-70EH), and biggest capacity is up to 260mm(KTC-260SPC)
Our feeding system (GFC) is able to feed 800mm (from KTC-70EH to KTC-200SP), feed 450mm (KTC-230/260SPC). Support multiple feeding up to 999 times.
It is possible, one of our newly feature is allowing our user to connect/monitoring machine from distance when there is internet signal.
We provide one year warranty of the machine under normal operation.
OPTIONAL ACCESSORIES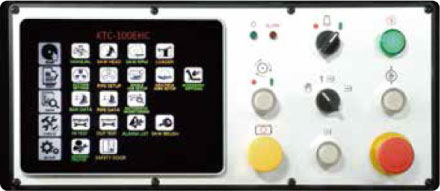 CNC Controlled with PLC Modular Unit
POD (Programmable Operation Display)
8.4" color high-resolution Touch Sensing Screen
Features
Motion controller system is used of progressive servo-positioned control unit. High capability man-machine inter face design provides 100% signal communication for no losing that have built-in perfect modular set device, error auto detecting function, self diagnosis function.
8.4" color LCD has a high-resolution display screen, you just only be required to touch the characters for display or inputting data by touching on the screen. User-friendliness of man-machine interface displays varied functions settings, error report, operating condition...etc..
It combined with the centalized operating panel that provided with easily realize and handle all characteristics of machine within the shortest training period.
Sawblade feeding was designed with Pivot-Arm type then drove by AC servo motor and Ball-screw.
G.F.C loading system is driven by AC servo motor that cooperates with ball-screw, backlash compensate automatically, and also the reliable precision of repeated positioning is presented.
2mm kerf of TCT carbide tipped sawblade, low losses from cut to cut.
Mis cooling & lubricating system was equipped for cut-off working. It matches up the working environment dry and clean requirement, reduce fluid consumption, increase sawblade life, and dry chips recycled easily without pollution.
Trubleshooting Initial crop and rest piece delivered by independent direction from workpiece.