FP-600G-1600G Hot Forging Presses
Hot Forging Presses FP-G Series is suitable for manufacturing the forging involved in hand tools, autos, motorcycles, bicycles, trains, ships, airplanes, machine tools, textile machines, woodwork machines, conveying equipment, mining machinery, hardware parts'etc.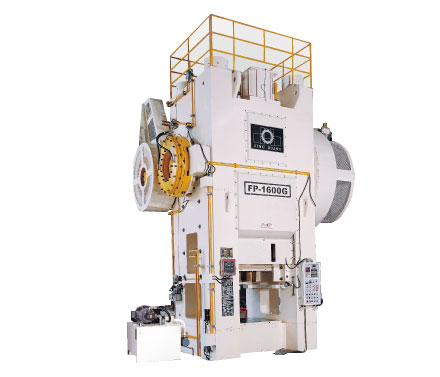 The upward and downward material-topping design reduces the inclination of the mold cavity so as to minimize the material consumption and so as to save materials.
Strong motivity ensures high production efficiency.
High speed traveling between the forging materials and the molds extends the working life of the molds.
The machine has a long stroke which is different from the conventional short stroke such that the machine is more suitable for conducting variouskinds of forging operations.
The windows formed in both sides of machine frame facilitate the transmission of forging and enable automatic pressing operation.
The box-type machine frame has high rigidity which is ideal for cold, warm or hot forging operations and which ensures high-precision forging.
High production efficiency 'simple operation' easy maintenance and low production cost.
Specially designed mold stick release device can easily solve the mold jammed problem and ensures easy operations.
The long guide way design features with better anti-inclination, allows heavy eccentric load, enables multi-forging operations and ensure high-precision forging.
The centralize lubrication system reduces frictions among various mechanical parts.
Multi-safety operation circuit system assures the safety of operators.
Our machine meets the CNS inspection standards in terms of accuracy.
The machine is suitable for making longer parts and material vertical to forge such as alloy, aluminum parts. It is double geared driven which offers higher torque. FPG type can adjust the press stroke speed(SPM) but FP type can't.